100% Refund in case of Visa
Rejection.! T&C Apply



GET
DUBAI VISA

EASIER & FASTER

UAE Visa Processing Steps
It's a proud moment for
Dubai VISA.com!
With more than 2,00,000 Visa applications across the globe, we have attained a new landmark in the field of visa services.
Applicants seeking a Dubai/UAE visa can apply here and be a part of our excellent visa services.
Why The Dubai Visa ?
Issuance of more than 2,00,000 UAE visas

Highest visa approval ratio

Faster and easier visa processing

Affordable application and processing fees

Quick online Application Form fill up

Easy online documents uploading

Effortless web access and useful Visa information

Trained UAE visa specialists and professionals

256-bit SSL protection for the entire website

Instant update on the entire lifecycle of visa processing

Round the clock chat assistance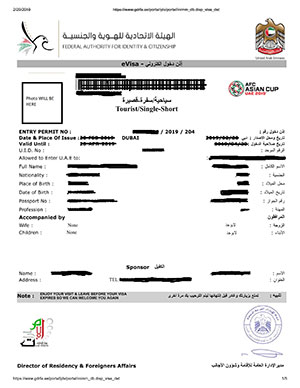 Sample e-Visa for Dubai
Please Note: Once the visa will be approed, you will receive soft copy of e-visa via email. You need to take the print of the e-visa copy.
Our Clients Testimonials
A trustworthy name in the field of UAE visa service providers. I went to Dubai to meet my daughter and returned to India couple of days back. Before flying to Dubai, I was not sure whether I will get my visa processed on time or not. It was really a fuss for me thinking of long queue, expensive processing and all other formalities. But big thanks to Dubai VISA.com and all the supportive staffs for processing my UAE visa application with no hassle. It was indeed an excellent service! Now, what all I can say that travelling abroad is not that wearisome if an excellent service providers like Dubai VISA.com is there.

-Ottilie Ruby,

Guys, if anyone looking for an effortless visa processing in affordable charges along with pleasing assistance, go for Dubai VISA.com. Kudos to the kind of support services they render! Being an independent travel blogger and a social worker, I keep on exploring new places both locally and globally. I personally thank to all supportive associates of the organization who helped in getting my UAE visa with minimal effort.

-Isabella,

From my personal experience, I would recommend this site to everyone. Their service standard is simply unparalleled and also very reliable!

-Amanda,

It's been nearly 15 years now when I made my first trip to Dubai. Since then I have been to Dubai three more times. During my recent trip to Dubai, one of my friends recommended me about this website. Believe you me; 'Superb' was the word that I uttered first after getting such top class services from them. I wish 15 years back if there was service provender like Dubai VISA.com

-Amelie,